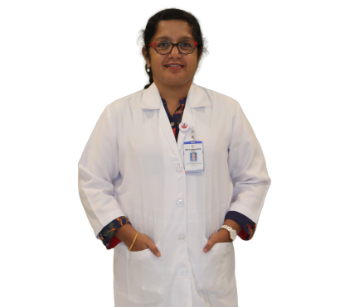 DR JISHA JOSEPH
Specialist
Paediatrics & Neonatology
MBBS, DCH, MRCPCH
7 years of experience
Salalah (Oman)
About DR JISHA JOSEPH
Dr Jisha Joseph is a highly qualified Specialist Pediatrician with excellent experience in child care and neonatology. She is adept at managing childhood disease conditions including asthma attacks and epilepsy episodes. She is also highly experienced in taking care of newborns, especially newborn resuscitation and endotracheal intubations. She believes in dealing in a compassionate and motherly way with her patients to inspire utmost confidence from her young patients. She attends international conferences regularly to keep herself updated with the newest developments in her field.
Excellence & Experience
Area of excellence
Management of Pediatric Emergencies
Asthma attacks
Epilepsy
Newborn resuscitation
Endotracheal Intubation
Child Guidance
Level of Experience
Worked across various hospitals in Kerala as Pediatrician taking care of newborns to adolescents.
Awards & Academics
Academics Details
MRCPCH – Royal College of Paediatric and Child Health, UK - 2017
DCH – Government Medical College, Kottayam, Kerala - 2011
MBBS - T. D Medical College, Alappuzha, Kerala - 2005
Out Patient Timings
The outpatient timings at Badr Al Samaa Hospitals have been planned in such a way that your choice of doctor is available whenever you are free.
Sunday
9:00 AM - 1:00 PM
Salalah - Oman
5:00 PM - 9:00 PM
Salalah - Oman
Monday
9:00 AM - 1:00 PM
Salalah - Oman
5:00 PM - 9:00 PM
Salalah - Oman
Tuesday
9:00 AM - 1:00 PM
Salalah - Oman
5:00 PM - 9:00 PM
Salalah - Oman
Wednesday
9:00 AM - 1:00 PM
Salalah - Oman
5:00 PM - 9:00 PM
Salalah - Oman
Thursday
9:00 AM - 1:00 PM
Salalah - Oman
5:00 PM - 9:00 PM
Salalah - Oman
Friday
Saturday
9:00 AM - 1:00 PM
Salalah - Oman
5:00 PM - 9:00 PM
Salalah - Oman