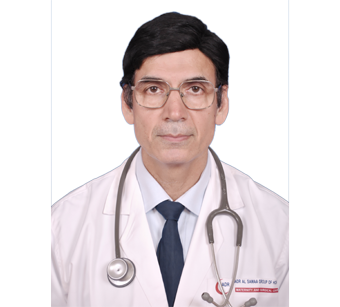 DR VISHWANATH GOLASH
Senior Consultant
General & Laparoscopic Surgery
MBBS, MS, FRCS (UK), FACS (USA), FICS (USA)
45 years of experience
Salalah (Oman)
About DR VISHWANATH GOLASH
Dr Vishwanath Golash is a true luminary in his profession. He has wide and extensive experience in general and advanced laparoscopic surgeries. He specialises in laparoscopic repair of ventral hernia, inguinal hernia, hiatus hernia, common bile duct exploration, biliary bypass, bariatric surgery including all upper & lower GI surgery. He has innovated, published and presented new techniques in laparoscopic surgery which are being practised all over the world. Dr Vishwanath also has 109 research publications in international peer-reviewed journals that have earned him accolades. He is currently writing a book on Minimal Access Surgery.

Excellence & Experience
Area of excellence
Upper and Lower GI Surgery
Bariatric Surgery
Endocrine Surgery
Biliary-Pancreatic Surgery
Level of Experience
Over 42 years of experience in surgery.
He has wide experience in trauma surgery, head and neck surgery, oesophageal surgery, gastric surgery, hepato-biliary surgery, surgery for portal hypertension, pancreatic surgery, thoracic surgery and peripheral vascular surgery.
Experience of over 5000 advanced laparoscopic procedures including bariatric surgery, repair of Inguinal hernia, ventral hernia, hiatus hernia, exploration of common bile duct and biliary bypasses, achalasia cardia, gastrectomy, gastric bypass, esophagectomy, colon resections, splenectomy, cholecystectomy, appendectomy etc.
Well experienced in ERCP (Endoscopic retrograde cholangio-pancreatography) - both diagnostic as well as therapeutic (Pappillotomy & removal of CBD stone, stenting, etc).
OGD (Oesophago-gastro duodenoscopy), injection of esophageal varices and banding, injection of bleeding peptic ulcers, dilatation of oesophageal stricture & intubation.
Awards & Academics
Academics Details
MBBS: JLN Medical College, Ajmer - 1974
MS (Surgery): Postgraduate Institute of Medical Education & Research, (PGIMER), Chandigarh - 1978
FRCS: Royal Colleges of Surgeons, Edinburg - 1981
Diploma (Laparoscopic Surgery): European Institution of Telesurgery, Strasbourg - 1997
FICS: International College of Surgeons, USA, 2007
FACS: American College of Surgeons, USA, 2009
Out Patient Timings
The outpatient timings at Badr Al Samaa Hospitals have been planned in such a way that your choice of doctor is available whenever you are free.
Sunday
Monday
5:30 PM
Salalah - Oman
Tuesday
Wednesday
5:30 PM
Salalah - Oman
Thursday
Friday
5:30 PM
Salalah - Oman
Saturday
5:30 PM
Salalah - Oman