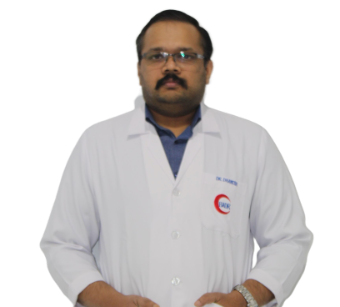 DR DHANESH VIJAYAN
Specialist
Radiology
MBBS, DMRD,FRCR (U.K)
7+ years of experience
Salalah (Oman)
About DR DHANESH VIJAYAN
Dr Dhanesh Vijayan is a highly dedicated Specialist in Radiology, with more than 7 years of excellent experience in diagnostic radiology gained in reputed tertiary care teachings hospitals .His major focus is in cross-sectional imaging. He is an expert in conventional radiography, fluoroscopy, ultrasound, CT and MRI. He is also skilled in performing 3D ultrasound- guided biopsies, pre-operative wire-guided localization of pathologies, etc. He is also highly skilled in Radiology, Ultrasonography (including general, abdominal and pelvic ultrasound, Obstetric ultrasound), and Colour Doppler studies. Dr Dhanesh Vijayan attends relevant conferences regularly to stay updated with the latest developments.
Excellence & Experience
Area of excellence
Abdominal Radiology
Neuro Radiology
Musculo-Skeletal Imaging
Radiologically-guided procedures
MRI in Screening in preoperative staging
Advanced biopsy techniques
Level of Experience
Post PG Senior Resident - Govt Medical College, Alappuzha – 1 year
Radiologist - Travancore Medical College, Kollam – 2013-2019
Awards & Academics
Academics Details
FRCR - Royal College of Radiologist (UK) (2016)
DMRD - Govt. Medical College, Thiruvanathapuram (2012)
MBBS - Amrita Institute Of medical Sciences, Kochi, Kerala (2008)
Out Patient Timings
The outpatient timings at Badr Al Samaa Hospitals have been planned in such a way that your choice of doctor is available whenever you are free.
Sunday
9:00 AM - 1:00 PM
Salalah - Oman
5:00 PM - 9:00 PM
Salalah - Oman
Monday
9:00 AM - 1:00 PM
Salalah - Oman
5:00 PM - 9:00 PM
Salalah - Oman
Tuesday
9:00 AM - 1:00 PM
Salalah - Oman
5:00 PM - 9:00 PM
Salalah - Oman
Wednesday
9:00 AM - 1:00 PM
Salalah - Oman
5:00 PM - 9:00 PM
Salalah - Oman
Thursday
9:00 AM - 1:00 PM
Salalah - Oman
5:00 PM - 9:00 PM
Salalah - Oman
Friday
Saturday
9:00 AM - 1:00 PM
Salalah - Oman
5:00 PM - 9:00 PM
Salalah - Oman